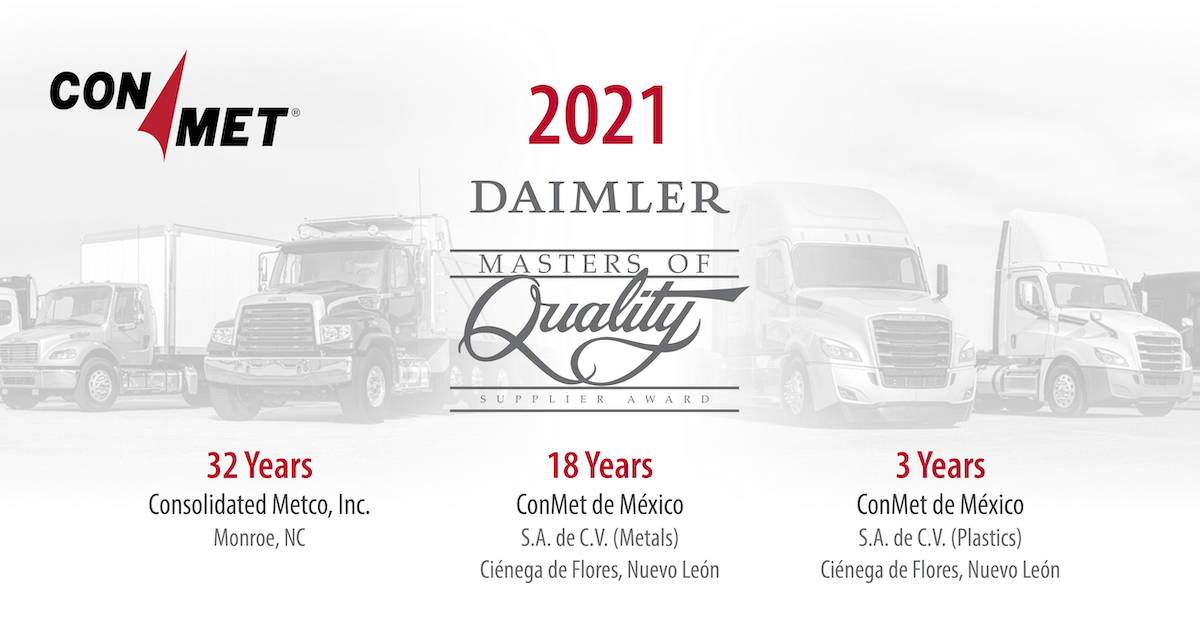 Vancouver, WA — ConMet is excited to announce that three of its facilities have once again been awarded the Daimler Trucks North America 2021 Masters of Quality Supplier award. As the industry's leading global manufacturer of wheel hubs, structural plastic, and aluminum casting components for the commercial vehicle industry, ConMet is honored to be recognized as one of the top suppliers to Freightliner and Western Star trucks.
"In our belief, the Masters of Quality award recipients represent the finest of the supply base, providing reliable delivery service through the North American commercial vehicle manufacturing industry," said Jeff Allen, senior vice president of operation and specialty vehicles for Daimler Truck North America. "These companies have been instrumental in helping us deliver quality products to our customers for decades."
Throughout the year, DTNA monitors and measures the performance of its suppliers and provides scores based on their quality, delivery, technology, and cost performance. The suppliers with the top scores are honored because of their commitment to providing high-quality services and continuously improving products.
"DTNA is a valued and dedicated customer and the ConMet team greatly appreciates the recognition of our facilities," said Ramesh Ramanathan, chief operations officer of North American operations. "We take pride in this accomplishment and in delivering exceptional services and high-quality products. Being honored with the Masters of Quality award continues to showcase our strong commitment to excellence and highlights the hard work and outstanding performance of our facilities."
Because of ConMet's exceptional scores and ongoing advancements in 2021, DTNA has honored three of its production facilities – this marks the 32nd time the wheel end plant in Monroe, North Carolina, has now received this award. The full list of locations that were awarded is listed below.
Plants:
Monroe, North Carolina – 32-year recipient
Nuevo León, Mexico (metals) – 18-year recipient
Nuevo León, Mexico (plastics) – 3-year recipient
Learn more about this distinguished award here.


About Daimler Truck North America
Daimler Truck North America LLC, headquartered in Portland, Oregon, is a leading provider of comprehensive products and technologies for the commercial transportation industry. Daimler Truck North America designs, engineers, manufactures and markets medium- and heavy-duty trucks, school buses, vehicle chassis and their associated technologies and components under the Freightliner, Western Star, Thomas Built Buses, Freightliner Custom Chassis Corp and Detroit brands. Daimler Truck North America is a subsidiary of Daimler Truck Holding AG (DTG), one of the world's leading commercial vehicle manufacturers.
About ConMet
ConMet, a division of Amsted Industries, is a leading global supplier of wheel hubs, aluminum castings, and structural plastics to original equipment manufacturers and aftermarket channels in the commercial vehicle industry. Founded in 1964, ConMet innovation has been critical in designing, engineering, and manufacturing revolutionary technologies for trucks and trailers. Today, ConMet products are standard equipment on most heavy-duty vehicles in North America and have a growing footprint worldwide.
ConMet is committed to creating products and services that align with critical customer needs. The development of more efficient products, processes, and technology that transform the way customers run and maintain their vehicles is central to ConMet's vision.