Breakthroughs Achieved in Weeks
Yohann Rousselet: Global Director, Technology Innovation at Baltimore Aircoil Company, Inc.
Rapid, iterative prototyping with additive manufacturing (also known as 3D printing), when employed as part of a methodical innovation process dramatically shortens the time to market for new products. The speed and low cost of rapid prototyping with additive manufacturing enables the design and testing of many versions, to quickly compare alternative designs and to iteratively improve and refine designs.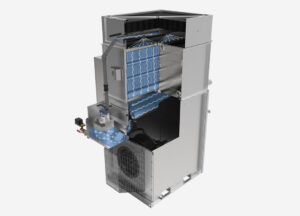 Revolutionary New Product
Baltimore Aircoil Company (BAC) used additive manufacturing to develop the Nexus® Modular Hybrid Cooler, a big leap forward in hybrid fluid cooling systems for HVAC and light industrial applications.
One of the key differentiating design features of the Nexus Cooler is the patented DiamondClear® Design, which provides continuous self-cleaning, significantly cutting water basin maintenance costs, and reducing spray water volume by up to 60%. It can also help eliminate the need for traditional water treatment.
This unparalleled performance results from innovations in the design of two critical components of the DiamondClear® Design:
Sloped Water Collection System – High-velocity water efficiently flowing over gutters and end caps reduces scale build-up and biological growth.
Optimized Pressured Spray Nozzles – Even water distribution over the heat exchanger maximizes performance.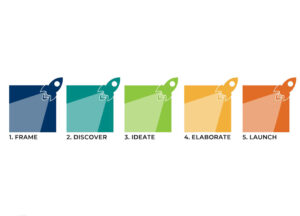 Fast-Paced Innovation Process
BAC and all the business units of BAC's parent company Amsted Industries employ a fast-paced five-step innovation process. The first three stages — FRAME market opportunities, DISCOVER critical insights, and IDEATE breakthrough concepts — inform and guide the subsequent stages.
The fourth stage — ELABORATE rapid prototypes — employs additive manufacturing among other tools in an iterative process of creating multiple versions and exploring and evaluating major alternatives and precise refinements.
The final stage — LAUNCH validated solutions — uses full-scale 3D printed prototypes with other methods for final testing and concept validation.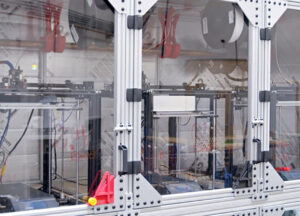 Ideation to Validated Solutions in Less than 10 Weeks
During the ELABORATE stage, the gutter for the sloped water collection system prototypes were 3D printed in-house allowing the team to quickly evaluate the water management capabilities of five different designs. This testing, combined with detailed CFD (computational fluid dynamics) analysis of the aerodynamic behavior of multiple designs of the gutter profiles gave the team the necessary confidence to move forward with the selected design.
For the LAUNCH stage, BAC purchased a larger 3D printer to meet the build volume capabilities to perform full-scale testing, and the payback was realized in under 6 months. Development of the first full-scale water collection system prototype was completed in less than 10 weeks, from ideation to validation testing of the first full-scale prototype. Final production designs included both injection molded and extruded parts.
Furthermore, additive manufacturing allowed the team to reduce the spray nozzle development time from 9 months to 6 weeks. On-site 3D printing reduced the prototype nozzle production lead time from 2-4 weeks to less than 24 hours, which significantly shortened the duration of the iterative design process. Final production parts were injection molded.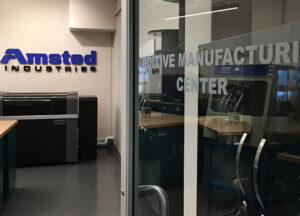 Accelerating Innovation
In house additive manufacturing capability is critical in controlling quality, lead time, and cost. Rapid prototyping with additive manufacturing gives designers and engineers more freedom to explore creative solutions and test concepts with empirical analysis, resulting in products with breakthrough advancements in performance.
With the success BAC had with the Nexus® Modular Hybrid Cooler and subsequent products combined with the success other Amsted business units had with additive manufacturing, BAC's parent company Amsted created three shared additive manufacturing labs that exceed each individual company's capabilities.